Bryce Harper has been called an old school player since he entered the big leagues back in 2012. He plays hard and he runs the bases like a madman. That's not something you can say about all MLB stars. But of course, playing hard requires one to be very tough. Just minutes into the 2014 season, Harper's toughness has already been tested.
Check out the Washington Nationals outfielder as he slides into second base against the New York Mets on Opening Day 2014: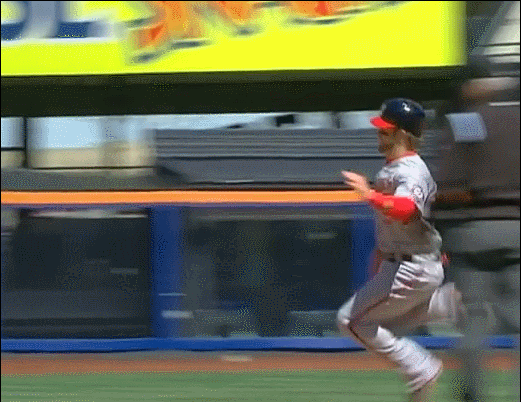 A leg straight to the face/helmet.
Harper was down for awhile after getting struck, but he later returned to the game after a concussion was apparently ruled out.
Obviously, this wasn't how the OF wanted to start his season. You can bet that he'll be sore tomorrow, but at least he doesn't have a bruised brain…
Most of the talk surrounding Harper coming into Opening Day was in regards to his physique. His arms are noticeably larger than they were last year, which of course has lead to questions from skeptical fans.
I don't believe Harper is juicing, simply because I don't think he's that dumb. In this day and age, the risks of getting caught using PEDs greatly outweigh the rewards. The 21-year old would basically label himself as a big time cheater just three years into his career and that's just not good for business.
I'll continue to believe that he got bigger the old fashioned way, until some legitimate proof emerges saying otherwise. But still, it's sad that the PED question is the first one we ask after a player beefs up.
Follow Andrew Fisher on Twitter and Google