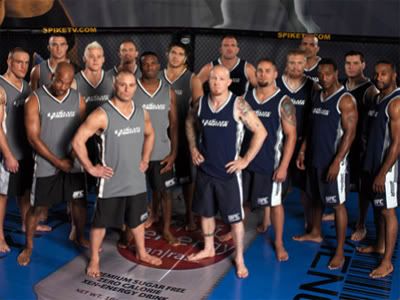 NOT PICTURED: CHAMPIONSHIPS
There's no question that the decision to produce the reality show 'The Ultimate Fighter' was on of the best decisions made by Zuffa. Forrest Griffin and Stephen Bonnar will likely always have jobs in some capacity due to their match at the end of TUF season 1 way back in 2005. Zuffa was deep in the red with its investment in the UFC at that point, and season 1 exposed the sport to millions of viewers.
You can't question TUF's impact, however, If TUF is being billed as up and coming prospects that haven't made a big name for themselves competing against each other for a multi fight contract, it hardly seems fair to put guys with plenty of experience, some of whom have held titles in smaller leagues, against fighters with much lower experience levels or mediocre records (it's true that levels of competition come into play as well, but it generally makes things even more lopsided). It might be mildly amusing to see the 13-4 former IFL champ Roy Nelson smother 3-1 Kimbo Slice with his belly, but I would hope an athletic commission wouldn't sanction such a match if it wasn't an 'exhibition.' Putting fighters like Allen Berube and Danny Abbadi on the show probably isn't for the best, unless they're matched with similarly experienced opponents. The performances seem to bear this out.
Forrest Griffin was 9-2 when he participated in TUF. Diego Sanchez, the other winner of TUF season 1, was 11-0. Then you had fighters like Josh Rafferty, who was 4-4 when he appeared in season 1. Jason Thacker did not have a pro fight under his belt (his first fight was on the season finale). This pattern repeats itself as the seasons go on. Joe Stevenson was 23-6 on season 2. In contrast, Rob MacDonald and Tom Murphy were 3-0 and 2-0. Now, it's true that Amir Sadollah won a season of TUF with a pro record of 0-0, but he hasn't exactly been the next big thing, compiling a 2-2 record since then (to be fair, he's had some serious health issues). The norm is that competitors with more experience will perform better on the show and beyond, as we've seen with Griffin, Sanchez, Stevenson, Nelson, Rashad Evans, or Ryan Bader. Kenny Florian and Josh Koscheck are exceptions, not the rule.
Even winning a season is not a guarantee against getting cut pretty quickly, as we've seen with Travis Lutter and Efrain Escudero. If successful TUF alums are being cut, we should start wondering why Zuffa bothers to continue to invest resources into this project. Look at the list of TUF winners and runners-up. The overwhelming majority of those who could be said to be contenders are the ones listed in the above paragraph. Most TUF alum have not gone on to become contenders. Moreover, the UFC has shown it can develop prospects outside of shows like TUF. Fighters like Jon Jones and Cain Velasquez had few pro fights when they signed with the UFC, but they were built into contenders by slowly increasing their level of competition.
Thus, it's not just the building of new stars that drives more seasons of TUF. TUF continues to exist because people continue to watch it. While more 'seasoned' fans may stop watching TUF after a season or 2, the show is very accessible to new viewers and attracts many casual or novice fans. The ratings fluctuate, but the show pulls in a fair number of viewers each season. Additionally, each season serves to set up a feud between the opposing coaches. This increases the interest in the future pay-per-view, which increases the PPV buyrate. People will forget what happened in the exhibition matches on TUF, but they won't forget Rampage and Rashad insulting each other. People will remember Marlon and Noah getting into a fight outside the house, and that is why participants may be selected based on perceived entertainment value rather than skill/experience.