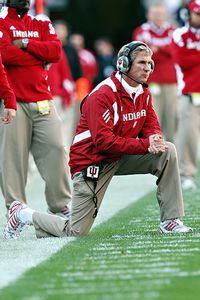 After three seasons, Indiana Hoosiers football head coach Bill Lynch has been fired. He was on the hot seat this year and if he didn't guide Indiana to a bowl game, he would be fired.
"My view was that, given the circumstances of the last three seasons, that extending the contract was not a viable option," athletic director Fred Glass said. "It would send the wrong signal of what merited an extension at Indiana University."
I agree with the decision Glass made. The Hoosiers made the right one. They had too much talent to not make a bowl game appearance.
Hope IU brings in a new, better coach now.