NCAA Football
College Football's Next Frontier: Preparing For Live Mascots
Washington employed a Bengal tiger at practice to mimic the fearsome live mascots atmosphere the Huskies face this weekend in Baton Rouge. Credit Steve Sarkisian for innovative thinking and opening a veritable Pandora's Box of training. Whether it's a successful bullet on the practice agenda depends more on the offensive line of Washington being able to keep NFL defensive ends out of Keith Price's brain cells. If Tigers in Seattle sits in the realm of, "hmm, that's new" which of the following satisfy the school going for, "dude, that's not safe?"
USC at Cal:
Lane Kiffin needs to know if his trimmed roster of 5-star athletes has the requisite gumption to avoid traveling to Oregon for the Pac 12 Championship. Hosting the Ducks twice in L.A. means besting the rest of their Pac 12 foes. And the California Golden Bears aren't the type to lose to a team like Nevada while christening more than $300 million worth of stadium improvements, are they? Either way, Matt Barkley had better be quick on his reads because when this monstrosity blows up a pulling guard and bears down on the Golden Boy, you won't hear screams. Only Lane Kiffin's laughter.
via http://www.christinewalker.net
Clemson at Florida State
Dabo Swinney earned some leeway with boosters by defeating Auburn in Atlanta but preparing for divisional rival Florida State should always be on his mind. Yes, there are distractions in Tallahassee of the bolted on variety (thanks Miss Sterger) but the real danger sits on a horse and the NCAA allows him to hold a flaming freaking spear. I actually propose that Dabo himself receive the Seminole makeover, no riding lessons and mount the assault on his players' pre-game comfort because more times than not, I can't understand a word he says anyway.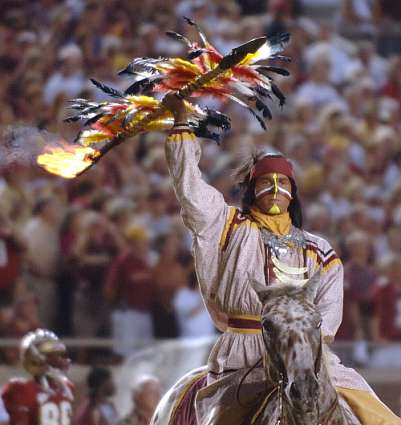 via http://kccollegegameday.com
Michigan at Michigan State
Brady Hoke is tired of hearing about Alabama. He'd eat a crimson-painted elephant if it would keep the Ann Arbor faithful off his back. Still, there's a Big Ten championship to vie for and Mark Dantonio's Spartans currently carry a 4-game win streak over the Wolverines. How else to show Denard Robinson how important it is to sidestep pressure and deliver an accurate throw than enlist the help of Gerard Butler in his most meathead-y role?
via http://www.builtfit.com
—
Chris Hengst is a writer for Rant Sports. You can follow him on Twitter @ShootyHoops.