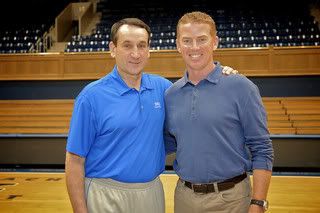 Dallas Cowboys head coach Jason Garrett spent the past weekend job shadowing Duke basketball coach Mike Krzyzewski. In the past, Garrett has traveled to south Florida for mentoring from former Cowboys coach Jimmy Johnson. Krzyzewski is a 4-time national championship-winning coach at Duke and has coached at the university since 1980.
Garrett was recently hired as the permanent head coach of the Cowboys after spending three and a half seasons as offensive coordinator under Wade Phillips. After Phillips was fired halfway through the 2010 season, Garrett took over and led the Cowboys to a 5-3 finish following a 1-7 start. According to team owner Jerry Jones (and the roar from Dallas' demanding fans), that earned Garrett the permanent job.
Modestly knowing that he is not Red Jesus as ESPN's Randy Galloway jokingly calls him, Garrett went to seek advice from Krzyzewski. Basically, Krzyzewski coached Garrett on how to coach. It sounds silly, but it's a great move. If there was anybody left in Cowboys Nation who still was not sold on Garrett, they are now.
To do something like this is not only a smart move from a football perspective, but also one from a public relations perspective. My PR classes in college taught me that the public's attitude toward you is crucial to success in anything you do. Trust me; Jones listens to the fans. If they don't like someone, he is more apt to get rid of them. Exhibit A: Phillips.
I applaud Garrett for this gesture of humility and thus give him my vote of confidence. It takes some big coconuts, as Galloway says, to nonverbally admit that you look up to another person of your profession like that. I'll bet Garrett learned a lot from Coach K and comes back a better coach than ever in 2011.
Want to know what Krzyzewski told him? I don't exactly know, but I'd say it was a lot about being disciplined on the sidelines. Garrett is trigger happy and tends to throw the ball 40-plus times per game when things are tight. Coach K probably told him not to do that. In case you didn't know, that's the key to becoming a great team instead of only a good team. A+ for Garrett on this one.