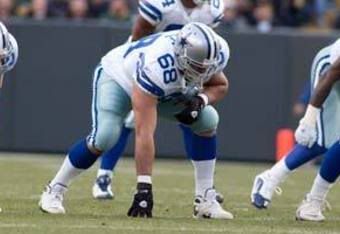 Although a new collective bargaining agreement has not been reached between the NFL owners and the NFL Players Association, the Dallas Cowboys are approaching free agency as usual. With 13 players' contracts expiring, team owner and general manager Jerry Jones has several personnel decisions to make while negotiating a new CBA. The Cowboys will offer tenders to five of the 13 free agents.
Left tackle Doug Free is first on the Cowboys' priority list. Dallas is expected to use the highest tender on Free, which would cost a potential suitor a first and third-round pick. That is the same tender the Cowboys used on wide receiver Miles Austin last year. The Cowboys will not use the franchise tag on Free, so the Jones must be confident the tender will be enough to keep the Northern Illinois product in Dallas.
Last year, the Cowboys used second-round tenders on receiver Sam Hurd and defensive end Stephen Bowen each worth almost $2 million. Dallas is expected to do the exact same this off season for Hurd, Bowen, and defensive end Jason Hatcher. Free safety Alan Ball will most likely get the right-of-first-refusal tender, and he will be a restricted free agent regardless if a new CBA is reached by the March 3 deadline or not.