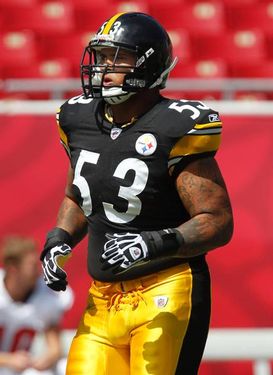 Just to clarify, this will hopefully become a running series where I break down the picks that the Pittsburgh Steelers have made in various drafts, how they fared with the team, and potentially where they are and what they're doing now.
I understand that evaluating a draft after only one year is somewhat ludicrous and not the best judge of potential and talent, but for continuity's sake, I wanted to begin with the most recent draft, so bear with me, and remember that these are completely open to change, and should a player receive a lower mark, I'm VERY willing to eat crow in the interest of them becoming a stud.
Without further ado, I present to you, the Pittsburgh Steelers 2010 NFL Draft.
Round One: Maurkice Pouncey, Center, Florida
Steelers Chronicle Grade: A+
When the Steelers selected the versatile interior lineman from Florida, Steelers Nation rejoiced, and then cringed at one of the most awkward celebrations one could see on draft day. But, as expected, Pouncey stepped into the starting role from day one, replacing Justin Hartwig and being named to the Pro Bowl.
Pouncey brought a level of enthusiasm, professionalism, and a mean streak to an offensive line that has been hurting the past few years, instantly upgrading it and forcing the NFL community to take notice of his skills, including having his name brought up when discussing the best centers in the NFL. Personally, I rank him as the second best center behind the New York Jets Nick Mangold.
He showed an ability to block well in both phases of the offense, and routinely took on massive nose tackles and multiple defenders, shrugging them off with ease for the most part.
Being injured in the AFC Championship game and being forced to miss out on the Super Bowl isn't sitting well with him, and one can only hope that it will light a fire underneath him, much in the manner that losing Super Bowl XLV has lit one under quarterback Ben Roethlisberger.
Round Two: Jason Worilds, Outside Linebacker, Virginia Tech
Steelers Chronicle Grade: B
Unlike Pouncey, Worilds was not expected to make an immediate impact for the Steelers, as most rookies are generally relegated to special teams and trash time roles. But, Worilds got some opportunities due to brief injuries and certainly made the most of those chances.
He's a very solid special teams player, with a great work ethic and perhaps an even better head on his shoulders, I got the opportunity to speak with him about two months ago, and when asked if he would be ready should the team not be able to work out a deal with LaMarr Woodley and he said that he definitely would be, and that he's worked all season on being what the team needs him to be, and doing what they need him to do.
Overall, Worilds is sitting pretty in a position that many young linebackers would kill for. He gets the opportunity to learn from not only one of the best in the NFL, but TWO of the best in the NFL, at least according to ESPN's top linebacker ratings.
Round Three: Emmanuel Sanders, Wide Receiver, SMU
Steelers Chronicle Grade: B
Like Worilds, Sanders contributed on special teams to start the year, though got involved in the offensive gameplan late in the season. And like Worilds, he took those chances and ran with them.
Catching 28 passes for 376 yards, he averaged nearly 14 yards per reception, and while that's not eye popping like fellow receiver Mike Wallace's average, it still means that as an average he picked up a first down when he caught the ball. Of course, that doesn't mean that every catch went for a first, but on a basic scale, you could interpret the statistic as such.
He became on of Roethlisberger's favorite targets in the second half of the year, and has been rumored to be in the running for a starting spot, with Hines Ward slipping into the third wide receiver role.
Round Four: Thaddeus Gibson, Outside Linebacker, Ohio State
Steelers Chronicle Grade: N/A
I, for one, had decently high hopes for Gibson, but it was not meant to be. In a completely roster based move, he was waived by the team and picked up by the San Francisco 49ers. It was sad to watch a player that seemed to be a perfect fit in a Dick LeBeau attacking defense walk away, but the depth was sorely needed along the defensive line at the point of the waiver. I wish Gibson nothing but the best in his career with the 49ers.
Round Five: Chris Scott, Offensive Tackle, Tennessee
Steelers Chronicle Grade: N/A
Scott began the season on the physically unable to perform (PUP) list and only made it off of said list because of a season ending injury to starter Max Starks. He held a roster spot at the end of the year, but did not suit up for a single game. His presence could be sorely needed should he have something special to show the coaching staff.
Round Five: Crezdon Butler, Defensive Back, Clemson
Steelers Chronicle Grade: D
Butler was only active for four games in 2010, which is not a good sign considering the state of the Steelers backfield. He does have a good fan base, with some going so far as to call him a future starter. Which, at this point is kind of premature.
What Steeler Nation would have liked to see from the coaching staff last year was Butler stepping in at the nickel position now and then so that we could get a glimpse of the future. He has the ability to play safety should something go awry for that position in 2011, but as of now, he's buried behind William Gay on the depth chart…and that's never a good sign.
Round Five: Stevenson Sylvester, Inside Linebacker, Utah
Steelers Chronicle Grade: C+
Sylvester was easily the teams best special teamer last season, and looks to have a VERY bright future in the black and gold. Already being talked about as a future starter inside, rumored as early as next season in place of James Farrior he is at least expected to come in to give Farrior a few breathers.
His tackling is top notch, and he can hit like a mach truck without trying. That's something the Steelers coaches and fans love to see out of their inside linebackers, and his ability could open things up in case of an injury to either outside linebacker. Potentially Sylvester could step inside, with Lawrence Timmons sliding out to cover the outside linebacker position, and Jason Worilds waiting in the wings.
Round Six: Jonathan Dwyer, Running Back, Georgia Tech
Steelers Chronicle Grade: D
Dwyer was my sleeper pick of the draft. And boy was I wrong on that one. At least for his rookie year. He showed up to camp overweight and had problems learning the playbook, among various other things. As someone that was drafted to give us a power running game on short situations, he dropped the ball, a ball that Isaac Redman promptly picked up and ran away with.
He still has a shot at making people notice him, but I'm not holding my breath. Though, should Mewelde Moore not remain with the team through 2011, he may just be seeing more playing time. Admittedly, it would be hard to see less, as he only dressed for one game, averaging 3.1 yards per carry.
Round Six: Antonio Brown, Wide Receiver, Central Michigan
Steelers Chronicle Grade: B
Brown scored a touchdown the first time that he touched the ball in an NFL game, showing perhaps signs of things to come? After that he kept fairly quiet, but really caught fire towards the end of the season, becoming the fourth receiver on the depth chart behind Hines Ward, Wallace, and fellow rookie Sanders.
He didn't catch a touchdown, but showed up big time when his number was called in the playoffs, catching a 58 yard pass to set up the winning touchdown against the Baltimore Ravens, and then catching another pass that sealed the game a week later against the New York Jets.
Brown looks to compete once more with Sanders for the third receiving spot in 2011.
Round Seven: Doug Worthington, Defensive End, Ohio State
Steelers Chronicle Grade: N/A
Worthington found himself on the outside looking in, eventually being cut and signed to the practice squad of the Tampa Bay Buccaneers.
Overall, the Steelers front office performed very well in this draft, snagging a few gems in the later rounds and hitting big time on their first rounder, Pouncey.
Look for the next installment of Pittsburgh Steelers Back In Time, where I'll take a look at the 2009 NFL Draft.
You can find Steelers Chronicle on Facebook & Twitter.