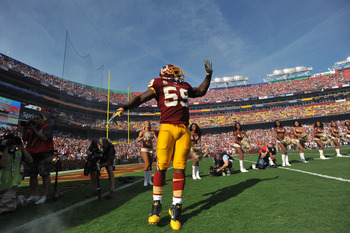 And here's the video to prove it.
As first reported by Capital Games, Mr. Irrelevant, CSN Washington, and the Washington Post, you can see in the video above, that Chris Cooley and London Fletcher were serious when they said they would be holding their own offseason workouts.
They held their first workout yesterday at a local high school and followed that up with another one this morning.
30 guys showed up yesterday, and more were anticipated today.  Even Malcolm Kelly made an appearance.
With the 2011 season still up in the air and a Redskins' outlook that couldn't be much bleaker, it's nice to know that, at the very least, this team does have some players that really care.
Let's hope it translates to good football.