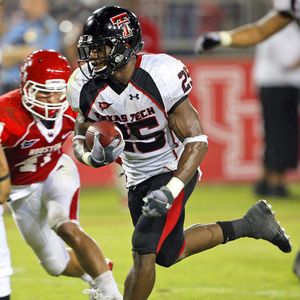 Sometimes there's a player or two per draft that you're really excited about, this year, Pittsburgh Steelers fans are excited about the entire draft, because overall, it was very solid and even more so high character. The seventh round pick of the franchise, Baron Batch, is no exception.
The small, hard nosed back out of Texas Tech is one of the most eloquent, down to earth young men that will ever step onto a football field, it felt less like an interview, and more like catching up with an old friend. Without boring you too much with what I have to say, let's take a look at what Baron had to say.
Tom Jenkins: What are you most looking forward to during your rookie season?
Baron Batch: I'm just looking forward to getting on the field, it's been a dream of mine to play in the NFL, and actually having the chance is just mind boggling. I'll have a chance to play with and against the guys that I've grown up watching.
TJ: Speaking of the players that you grew up watching, who were some of your favorites?
BB: The first guy that comes to mind is Emmitt Smith of the Dallas Cowboys, but I really enjoyed watching guys like Ray Lewis, and Ed Reed of the Baltimore Ravens as well. But, one of my all time favorite players has got to be Hines Ward, because of his toughness and his ability to go out there and do anything that he wants to on the field, be it blocking, catching, winning a dance contest, etc.
TJ: What do you feel are your biggest strengths on the field?
BB: Even though I'm a fairly small running back, I play hard on every down, and I think that my toughness is my biggest strength. Toughness is one of those things that no matter if you're big, small, fast, slow, it's the one thing you have complete control over. I'm also a very quick learner.
TJ: A lot of Pittsburgh Steelers fans are really pulling for you to make the team, how do you feel about your chances?
BB: Obviously my goal is to make the team, and I think I've got the skill set to do so, I just want to get in there, learn what I need to learn as quick as I can, and prove to the coaches that they made a good decision when they decided to pick me.
TJ: As a seventh round pick, do you think that you'll be playing with a chip on your shoulder?
BB: Honestly, it doesn't really change much for me. If I'd of been a first, second, third, etc. round pick, I'd of came in and done the same thing I'm planning on doing. I'd still come in with my head down and my hopes up, prepared to listen to the coaches and take all of the advice that I can possibly get from the veterans on the team.
TJ: Most are projecting you to battle for the third down back position, but, would you feel comfortable lining up at wide receiver if the situation called for it?
BB: Definitely, I'll do whatever I can to help the team win. I think that I'm a pretty good receiver, I run good routes, and I catch well. I also have an edge up on most guys coming out of college in terms of blocking. No matter where I'm at, as long as I'm playing, I'll be doing it with a smile on my face.
TJ: I can't imagine many running backs that would be thrilled about playing in a pass heavy offense in college, but what was the best part about that?
BB: You know, I wasn't too thrilled about it at first, but looking back I can see how it really polished me and allowed me to get to the NFL level. Like I said before, it gives me a leg up on the competition as far as blocking schemes go, and I feel that I was allowed to show my talent catching the ball more so than any other running back.
TJ: The Pittsburgh Steelers have always been known for not only their defense, but their historically good running game as well, what are your thoughts on having a chance to be apart of that history?
BB: It's crazy, questions like these get me thinking, I'm I awe of the history of the team, there's just so much talent there. I'm just planning on doing what I can, and hopefully I'll be able to help. This is just a dream come true for me.
TJ: What made you want to start your own charity, and what went into developing it?
BB: It was a lot of work to actually set it up, but it was well worth it. I think it was just understanding the platform and exposure that I have, and how I can use that to impact others. I didn't want to wait to do it, it's just another part of me that isn't all about football.
TJ: You're one of the most accessible players out there, on Facebook, Twitter, and your blog, how tough is it keeping up with everything from the fans?
BB: Oh man, it's a lot of hard work, but I love it. I just want to be open with my fans, like I would be with my friends. I feel that they connect with me better that way, I've had people tell me that they feel like they've known me forever because they've read my blog.
I don't want to get swept up into the popularity like a lot of athletes tend to do. I want people to realize that I'm just a regular guy with an AWESOME job, but I've got the same 24 hours in a day that everyone else does, and when I go home, I lay in bed and relax just like them.
TJ: There's a stigma about players that come from a spread offense, that they're going to have trouble adjusting, that they're soft, etc. Do you think that's a fair assessment?
BB: It's definitely fair, there aren't many teams that run a spread offense regularly in the NFL, and a lot of the guys playing in the system in college are all about finesse, but I just want to say that it doesn't define me at all. Even though I played in one, I've always been a tough nosed downhill runner. The being said, the system doesn't have to define the player or his ability to play football, it's all about the drive he has to get the job done.
TJ: How do you feel about getting drafted to a team that sees so many accolades year after year?
BB: The funny thing is that I actually went to the Super Bowl last year with a friend of mine, and jokingly said 'Hey, just think, I could be playing for one of them next year." I'm definitely excited, though. It's literally a dream come true, but at this point it's still an unknown, the only thing I can really compare it to is making the move from high school to college, because you're getting the chanced to play with and against guys you've watched for years and you're not the biggest fish in the pond anymore.
I'm definitely ready for it, though. I think I was ready for a change of pace, and I'm really looking forward to soaking in all of the knowledge the veterans are willing to give me. And, hopefully, someday down the road, I'll be able to pay that forward when a rookie asks me a question.
TJ: How did your blog come about? Have you always been such a passionate writer?
BB: Not at all, actually one of my best friends, Garrett, told me that I should set one up, because people would want to read it to see what I've got to say, and to see what playing football in college is like. I've been using it to write for about three years now, and just before my senior year, I approached a few papers about printing the blog.
I guess I just wanted to share my life and experiences with people, and people seem to follow it. I try to be as honest as I can on there, and people are drawn to that, I don't censor it at all. What I write on there, is who I am.
TJ: What are the plans for the blog as your career continues?
BB: I'm going to keep it going. I think people really enjoy it, and I enjoy looking back on it myself, just to see how much I've changed as both a person and a writer. It's a whirlwind reading through it sometimes, and makes me remember how I was feeling on that particular day, what I did, etc.
Not to mention, it would be a pretty cool thing to show my future kids and grandkids, so they could know exactly what I was doing and what happened, in my own words.
TJ: You've said that you can't make football all there is to you, are there any plans on what you're going to do once your football career is over?
BB: Definitely, I don't want to be one of those people that retires and then has to start looking for another career. Football could end in the blink of an eye, injuries happen. Right now for instance, the worst case scenario is that there is no season, and I never get a chance to play.
I'm going to do everything that I like to do, photography, helping people, writing, traveling, etc. Even if there is no season, and even when I do retire, I still have all of those dreams to follow.
TJ: Have any of the veterans called and welcomed you to the team?
BB: No, that doesn't really happen. They kind of just wait until training camp and we all meet there. It'd be like a senior of a college team calling a senior in high school that just signed his letter of intent.
TJ: You get a chance to play with Curtis Brown, someone you're familiar with from college, there's even a photo of you running him down after an interception, are you looking forward to that?
BB: Definitely. It's a lot better than playing against him. He's a phenomenal athlete and I'm really excited to play with him and to have him as a teammate. We actually came to Pittsburgh on the same visit before the draft, watched the play and joked around about it.
It definitely wasn't about me being faster than him. You've got to remember that the interception came on something like a 13 play drive where we were running the hurry up, and he was covering seam routes most of the time. We were close to scoring, so even being tired he had to try and run it all the way back and I didn't want to look like a punk and just let him run it in, or not try and chase him down at all. I honestly didn't think I was going to catch him.
TJ: What are you doing to keep in shape during this longer than usual off-season?
BB: I'm in Lubbock right now, doing a lot of cardio work, running a lot. I'm not doing as much working out in the traditional sense of lifting weights, but I am doing a lot of field work, catching the ball and whatnot.
TJ: Just to end this on a sort of fun note, who do you think is the best Steelers running back of all time.
BB: Wow. That's tough, the Steelers usually have a really good runner, including Rashard Mendenhall right now, he's just phenomenal. Obviously not the best in team history yet, but he's still got a long career ahead of him.
Jerome Bettis is really coming to mind though, I grew up watching him and respecting his toughness. He had the ability to bowl people over, but also had amazing footwork and agility. His toughness also set him apart from the crowd, and that's the thing that I respect the most about players on either side of the ball.
TJ: Thanks a lot for doing this, Baron, I really appreciate it and I had a lot of fun talking to you. If you're up for it, I'd love to do it again a little closer to the season.
BB: Thank you, I enjoyed talking to you as well, and I'd love to do it again.
Be sure and check out his blog and Steelers Chronicle on more information about his charity coming soon!
You can find Baron Batch at his blog, on Facebook, and on Twitter.
You can find Steelers Chronicle on Facebook & Twitter.