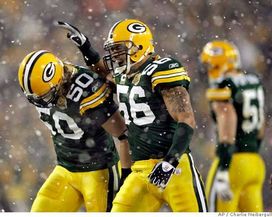 Earlier today, star linebacker Nick Barnett posted a series of 'tweets' implying that his time with the Packers will soon come to an end.
"Just met with Ted, Thanks for the great 8 years. Very blessed 2 be apart of such a great tradition and great fans.. Happy I was able to be here for the great xlv run… I will always keep a Special place in my heart for this team and city.."- Nick Barnett's twitter account.
Barnett has been with the team his entire career since he was drafted in the first round back in 2003. Since his rookie season he has been featured in the starting lineup 107 times in the regular season, and started eight playoff games. The announcement should not come has a huge surprise to Packers fans, especially after the restructuring of A.J. Hawk's contract, and the emergence of Desmond Bishop and of course, Clay Matthews. Even though Barnett spent two seasons on the injured reserved list, he has still been very productive for the Packers and while his departure is not a surprise, he will surely be missed by the other linebackers.
In his Green Bay career, Nick Barnett totaled 787 tackles, 575 of them solo tackles, which comes out to a very impressive solo tackle percentage of 73%. He has not recorded an interception since the 2007 season and has only four sacks over the past three years. The Packers have not released an official statement on their plans for Nick Barnett, and Barnett's tweets do not give any specific detail so for now we are forced to speculate that the Packers (or Barnett) decided that there was no place for him in Green Bay anymore. With his performance declining over the past three seasons, it is likely that there was a mutual agreement between both parties.
Personally, Nick Barnett has been one of my favorite Packers of the last decade. He plays hard, hits hard, and is a versatile linebacker. However, he was never much of a pass rusher, which seems to be what Dom Capers looks for in his linebackers. I am disappointed to see him leave, but I wish him the best of luck and hope that he goes to a winning team that deserves a winning player.