Cowboy legends Drew Pearson and Larry Allen could soon be headed to the Ring of Honor.
Landry Lane recently posted a feature on what makes these two men so deserving of the Ring of Honor.
Though these two are the most likely possibilities to be inducted this year, there are others as well who are deserving of the honor. This week, Landry Lane is running a series outlining the Cowboys who we think belong in the Ring of Honor (though in no particular order).
We began with the Dallas' all-time leader in sacks, Harvey Martin.
Today, we move forward a couple of decades to the 1990s, a decade in which the Cowboys won 3 Super Bowls, thanks in part to Darren Woodson and Jay Novacek.
*****************************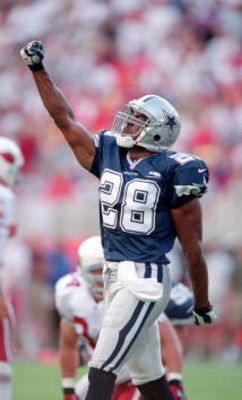 Former Cowboy strong safety, Darren Woodson, spent his entire football career playing in Dallas, from 1992-2004.
Drafted in the second round, this linebacker turned safety, remains one of the best athletes to suit up for Dallas.
During his 12 seasons, Woodson made 5 Pro-Bowls, and received All-Pro honors 3 times. He was a member of 3 Super Bowl Champion teams.
Woodson ended his career with 23 interceptions and 2 touchdowns. Most impressively, he is the Cowboys' all-time leading tackler with 1,350 career tackles.
During his time in Dallas, he earned the reputation as one of the hardest hitters and best strong safeties to ever play the game and remains so today.
*****************************
Jay Novacek began his professional career playing for the Cardinals, yet played in Dallas from 1990-1995.
Some will argue that Jay wasn't in Dallas long enough to receive such an honor, but in his 6 seasons with the Cowboys, this tight-end made five Pro Bowls, earned 5 All-Pro selections, and was a key offensive player on a team that went on to win three Super Bowls in four years.
As a Cowboy, Novacek had 339 catches for an astounding 3,576 yards, and 23 touchdowns.
He was nearly unstoppable.
Many believe that Novacek helped revolutionize the tight end position into what it is today.
Both Darren Woodson and Jay Novacek were impact players for some of the best Cowboy teams to play the game.
Both men should have a place among other legends in the Cowyboys' Ring of Honor.