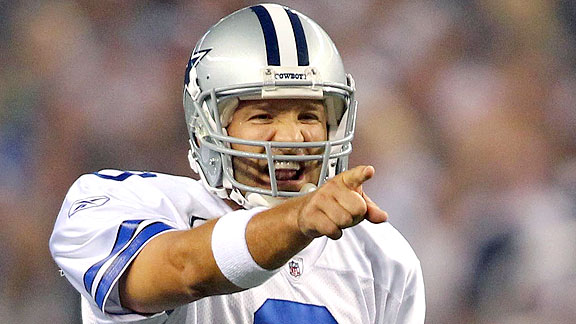 Sometimes, stats simply don't tell the whole story.
If a person looked at the boxscore from the Cowboys vs. Redskins match-up last night but did not watch the game, he or she would fail to see exactly how amazing Tony Romo's performance was.
Some called it a snooze-fest. After all, who wants to watch a game in which 1 touchdown is scored compared to 9 field goals?
But anyone who has followed the Cowboys for the past few years will tell you that stats do not tell the true story of last night's rivalry game.
Tony Romo finished the game 22 for 36 (for 61%) , 255 yards, 0 touchdowns, and 1 interception.
Pretty average numbers.
Except that when you consider all the factors involved, Romo's performance was far from average. In fact, a strong argument could be made that, all things considered, last night's game was the best in Romo's professional career.
It all begins with the fact, as we all know, that one week ago, Romo suffered a fractured rib and a punctured lung. He was fitted for a protective Kevlar vest this week, but as anyone who has suffered from one knows, fractured ribs hurt. Period.
The fact that he even took the field at all was impressive.
Leading his team to a victory with what he had surrounding him was even more impressive.
Dallas was without their star receiver, Miles Austin. Their #2, Dez Bryant, was a game-time decision and was obviously playing at less than 100%. Far less.
As the game went on, it became clear that Romo was therefore dealing with a young receiving corp that was, quite simply, clueless. He was having to tell them, all of them, where to line up, where to do, and what to do.
On top if that, his starting running back, Felix Jones, also a game-time decision, was in and out of the game, dealing with his own injury. Until the second half, the ineffective running game did Romo no favors.
He was also playing behind one of the youngest offensive lines in the League, and their inexperience showed. Romo took hit after hit. His center, Phil Costa, who missed practice all week and was dealing with an injury of his own, kept getting confused by Redskins' fake snap counts, causing him to snap the ball before Romo was ready for it time and time again.
Yet, despite all of this, Romo took an offense that was literally on life-support, a group of replacement players, and somehow found a way to win.
His most impressive and symbolic play of the game came late in the 4th quarter, when, after another fumbled snap, the Cowboys were facing 3rd and 21, and the game was on the line.
Romo was forced out of the pocket by a collapsing line, scrambled around, and while throwing on the run and off his back foot, hit Dez Bryant for a 30 yard pass, setting up the winning field goal.
This time, and for the second week in a row, Romo simply found a way to get the job done.
Despite his on-the-field performances the past couple of weeks, the biggest change we've seen from Romo is in his leadership.
For Romo's entire career, the major knock on him has been that he lacks leadership.
These past couple of weeks may be changing all of that.
Last night, Romo took command of his team. He shouted orders at them, telling them where to go and what to do. Once criticized for laughing off mistakes, he held his players accountable, just as a leader should (and remember, Romo excepted full responsibility in the loss to the Jets).
Even more than what he was saying, or yelling, to his players during the game, Romo led his team without words.
He earned a lot of respect from his teammates simply by taking the field, and as a result, others followed.
After the game, Dez Bryant tweeted, "I wasn't for sure about going tonight but if a guy with a puncture(d) lung and a broken rib can get out there and play, I can…Tony inspired me."
And isn't that what leaders do?
They inspire others.
When asked about Bryant's key reception on 3rd and 21, Bryant told the media that he was going to do whatever he needed to do to make a play for Romo.
Cowboys' tight end, Jason Witten also had something to say about Romo's ability to piece together a win.
"Pure will," Witten said. "And nobody in this locker room is surprised. We knew he had that kind of makeup, and when you have a quarterback with that kind of mentality, it's easy to want to go out there and play for him."
Granted, we are just three games into the season, and a lot of the blame for the Cowboys' only loss falls squarely on Romo's shoulders; However, since then, we have seen a different Tony Romo these last couple of weeks.
He took responsibility for his poor performance, vowed to do better, and then redeemed himself as he said he would.
He held his players accountable for their own mistakes.
He completely took over the last two games, despite his lack of playmakers, and led his team to two, 4th quarter, come-from-behind victories in a row.
He set a standard and inspired his teammates to fight through adversity and pain, just as he himself did.
He made his players want to do well for him.
These are all traits that strong leaders possess.
Is this a turing point in Romo's career?
Who knows.
Again, it's only 3 games into the season. However, we are witnessing a different Tony Romo.
We are witnessing the emergence of a true leader.