NFL
Minnesota Vikings
Adrian Peterson Dresses Up as the Hulk for Halloween
This past Monday the Minnesota Vikings had a team Halloween party. Their star running back Adrian Peterson was in attendance and showed up rocking this: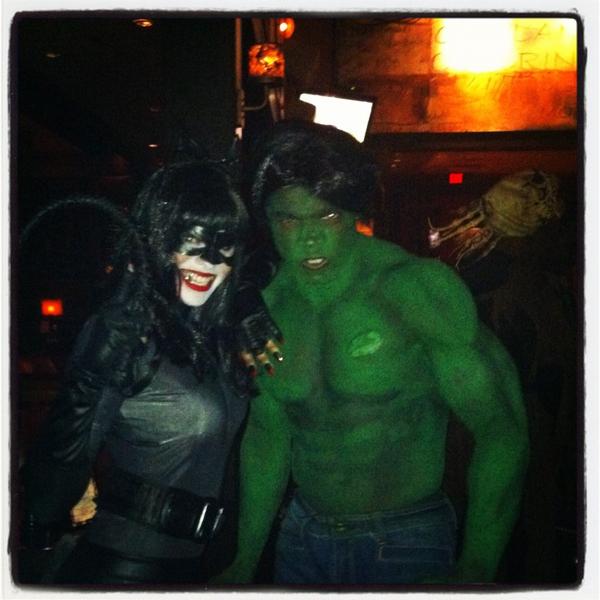 ADRIAN SMASH!!!
From Twitter:
"Vikings Halloween Party last night! Hosted by Jared Allen I think or Kevin William anyway we had a BLAST! Cat/vampire woman lol & D obvious"
Peterson can definitely pull off the Hulk look, and I say look because this isn't really a costume. Paint, wig, and jeans (that are hopefully tattered). That's really all you need to be a good Hulk.
But of course the most important part, actually having Hulk-like strength and muscles. This is where Peterson starts to differentiate himself from the common man. That isn't a muscle suit or shirt, those are the real guns folks…
As far as Peterson on the field is concerned, he faces a very tough matchup this week against the Seattle Seahawks. The Vikings are on the ropes a bit after last week's loss on Thursday Night Football, and things aren't getting any easier going in to arguably the toughest place to play in the NFL.
Peterson will be heavily relied upon come Sunday, because if the Vikings coaching staff has any sense at all, they will take the ball out of Christian Ponder's hands. Ponder has been nothing but shakey the last few starts and going into a hostile environment is not a good thing for the young quarterback.
Adrian Peterson will need to carry the ball 25 times on Sunday, and use that Hulk-like strength to propel his team to a victory.
Follow Andrew Fisher on Twitter @the_realfish