Just when you thought the Vancouver Canucks learned a lesson their thug mentality came out, once again, early on in Game 3 of the Stanley Cup Finals.  Vancouver's blueliner Aaron Rome sent Boston's Nathan Horton to the hospital on a stretcher after a hit-to-the-head in the open ice of Vancouver's defensive zone.  Vancouver's Alex Burrows avoided a suspension after he allegedly bit the hand Boston's Patrice Bergeron.  Rome was not as lucky as Burrows, and he is suspended for the last four games of the Stanley Cup Finals.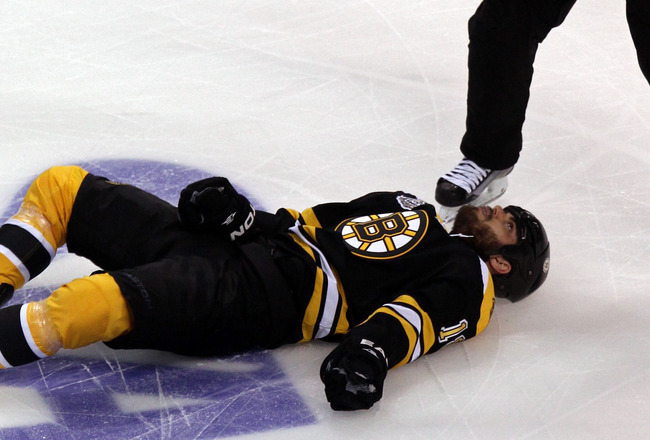 The Canucks may have lost Rome for four games, but the loss of Horton for Boston is much more significant because of his play-making and goal-scoring ability.  Rome's dirty hit is not only disrespectful to Nathan Horton, but it's disrespectful to the NHL, and it sums up how classless the Vancouver Canucks are by having their fifth or sixth defenseman head-hunt on one of Boston's top goal-scorers.
The loss of Horton is not a good thing for the Bruins, however, maybe this is the spark they needed.  The Bruins rallied behind their fallen soldier in Game 3 resulting in an 8-1 win over the Canucks to cut Vancouver's series lead to 2-1.
Have the Bruins turned this into a legitimate series?  If they play the way they did in Game 3 for the rest of the series then yes, we have a series on our hands.  But one game, or even two games, will not determine this series.  The Stanley Cup is a best-of-seven games series, and these two teams will play all seven if they're needed.
It does not matter how many goals Vancouver's netminder Roberto Luongo allows in a game, because it still gets recorded as one loss.  We have seen this story from Vancouver before.  They took a 3-0 series lead against the Chicago Blackhawks in the Western Conference Quarterfinals and then proceeded to get outscored 12-2 in the next two games.  Vancouver evidently knocked Chicago out in seven games and worked their way to the Stanley Cup Finals.
Boston controlled Vancouver in Game 3, and the Bruins were able to play their kind of hockey.  Boston got the puck deep and eliminated Vancouver's speed advantage.  Boston was as physical as they've been all series, and they matched every Vancouver hit with a harder, legal hit.  Bruins' netminder Tim Thomas was credited for a hit when he took out Henrik Sedin right in front of the crease.  Hey, Boston even capitalized on two powerplay goals, as well as a couple shorties.
Boston played their best possible hockey against Vancouver in Game 3, but Vancouver is a very experienced playoff hockey team.  One bad game will not decide their fate of the series, and it's only a matter of time until the Canucks get back to playing their type of hockey and control the pace of the game.
Boston taunted Vancouver players by sticking their fingers near the Canucks' mouths during many scrums after the whistle.  The Canucks did not bite (pun intended) and avoided going to the box for an unnecessary two minutes.  Boston's taunting could catch up to them when Vancouver begins to take control, and the Bruins could very well end up find themselves in the penalty box.
Vancouver knows they are dirty hockey players, and when they get away with a dirty hit (ex: Alex Burrows) they know how to move on and do what they need to do in order to win the game.  Game 2 is a perfect example; Burrows avoided suspension for his bite and then went on to score two goals in Game 2 including the game winner in OT.
This series has been unbelievable to watch.  From a Blackhawks fan's perspective, this series was very unappealing when the two teams were set to face off in the Stanley Cup Finals.  But the fast-paced, constantly physical hockey has been very entertaining.  If you don't think this series has been entertaining hockey then you don't know what entertaining hockey is.
Tim Thomas has outplayed fellow Vezina Trophy finalist Roberto Luongo, and his team is still trailing 2-1 in the series.  Thomas is going to have to continue to stand on his head throughout the rest of the series and hope that the guys in front of him do not waste his performance.
I'm sticking with my original prediction of Canucks in 6, however, Tim Thomas has performed Conn Smythe-esque.
If Thomas wins the Conn Smythe Award in a losing effort he would be the sixth player ever do to so and the first since Jean Sebastien Giguere and the Anaheim Ducks lost to the New Jersey Devils in 2003.
History will be made.