Tim Thomas has done just about everything a goalie is capable of doing throughout the Bruins' 2011 quest for Lord Stanley's Cup.  The 37-year-old netminder is a finalist for this year's Vezina Trophy, and he's been going head-to-head with fellow Vezina finalist Roberto Luongo during the last four game of the Stanley Cup Finals.  The series may be tied at 2-2, but the elder, more experienced Thomas has been far superior compared to his counterpart, Luongo.
Thomas won the 2009 Vezina Trophy for the NHL's best goaltender, but his glory didn't last long.  He lost his starting job as the Bruins' primary goalie in the middle of the 2010 season, but he worked endlessly during the offseason, and the results on the ice are a reflection of his hard work.
Thomas has started all 22 games of the Bruins' Stanley Cup Playoff run and has recorded three shutouts during that span.  His postseason performance has made him a candidate for this year's Conn Smythe Trophy winner, and in all honesty, whether or not the Bruins win I believe Thomas deserves the Conn Smythe barring any blowups over the next two-plus games.  He's outplayed, arguably, the best goaltender in the world in Roberto Luongo, and he is a huge reason, if not the reason, why the Bruins are tied with the Canucks in the Stanley Cup Finals.
For those who have watched the majority of the Stanley Cup you know that the series was chippy from the start.  Canucks' forward Alex Burrows headlined Game 1 because of his bite on Patrice Bergeron's hand.  Vancouver went on to win Game 1 1-0, and then Burrows was not suspended for his bite and proceeded to score two goals in Game 2 including the winner in OT.  Canucks' blueliner Aaron Rome then added to Vancouver's thuggish reputation after his hit-to-the-head on Boston's Nathan Horton.  Horton was knocked out of Game 3 with a severe concussion, and Rome was suspended for the remainder of the Finals.
Timmy Thomas did more than just stop pucks in Game 3.  He stood on his head in a winning effort, but he blew his shutout late in the third period.  However, Thomas made a statement late in the third period that not many goaltenders do anymore.  Canucks' captain Henrik Sedin was in front of the net trying to get the puck on his stick.  Tim Thomas stepped out of the crease and laid the wood on Sedin.  Timmy's hit was undoubtedly legal, and Thomas helped himself out by clearing the traffic, something his defenders should have been doing at the time.  And that was probably the best hit of the night.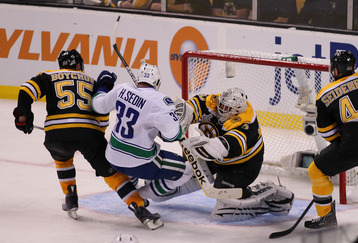 The Bruins came to the defense of their fallen teammate and lit up Luongo for an 8-1 victory in Game 3 to chip away at Vancouver's series lead, making it 2-1.  The teams remained in Boston for Game 4, and the Bruins and their fans were still fired up and determined to win for the injured Horton.  Thomas recorded his third shutout of the playoffs in Game 4 and the Bruins won 4-0.
Boston's 4-0 win in Game 4 did not come as easy as the scoreboard made it seem.  Just like the previous three games of the finals, penalties were handed out like they were going out of style.  Game 4 was chippy, and Vancouver had a 38-to-25 shot advantage, however, Thomas stopped all 38 shots he faced and Luongo let in four goals prior to being pulled after facing just 16 shots.
Once again, Thomas did more than just stop pucks.  This time Thomas sent a message to the hated Alex Burrows.  Vancouver was on a powerplay late in the third period, and Burrows tapped Thomas' stick one too many times.  The final time Burrows hit Thomas' stick he slashed it to the ice.  Thomas proceeded to pick up his stick and take a healthy hack at Burrows' right knee.
Usually it's the guys in front of the goalie that do the protecting, but Tim Thomas had had enough of Burrows' shenanigans.  He took matters into his own hands, and earned himself a minor penalty for the slash.  Once everything calmed down there was a shot of Thomas smiling.  Awesome is the only way to describe the scene.  Boston's TD Garden roared in applause when they saw the replay of what happened.
In today's game, you rarely see a goalie do the dirty work that Tim Thomas has been partaking in the last couple of games.  Not only has he been a physical presence, but he's been a damn good goalie to top it all off.  His play, all aspects of his play, remind me of old time hockey.  The days when Boston's very own Bobby Orr reigned, and when the movie Slapshot became known to man.
From someone who laced up his first pair of skates when he was 4-years-old and was a physical presence on the ice as he got older, I couldn't help but smile ear-to-ear, appreciate, laugh a little bit, and get goosebumps when I saw what Thomas did during Game 4.  I've never been a Boston Bruins fan hailing from Chicago, but my hatred toward the Canucks has turned me into a part-time Bruins fan.
The more and more I watch this series, the more and more I enjoy watching the defensively-sound Boston Bruins.  The Bruins currently have all momentum in this series, and they've been fortunate enough to be able to play Bruins hockey opposed to Canucks hockey.
Game 5of the Stanley Cup Finals is Friday in Vancouver, and if the Canucks want to hoist the Cup after all is said and done then they're going to have to get back to playing Canucks hockey and use their speed and play-making ability to their advantage, rather then worry about their dramatic flails in attempt to go on the powerplay.
I tweeted the Canucks would win the series in six games prior to the start of Game 1.  As much as I hate Vancouver and as much as I want to change my prediction, I'm going to stick with my original prediction.  Vancouver will feed off their home crowd in Game 5 for a win, and then they'll be the first road team of this series to get a win to clinch the Stanley Cup Championship.
Expect the next couple of games to be as physical as ever, and both goalies will thrive in the spotlight.  The Stanley Cup has now turned into a best-of-three series, and neither team wants to go home empty handed.  Both games will be close games, and I don't expect the scoreboard to look anything close to what it has looked like the last two.
History will be made.