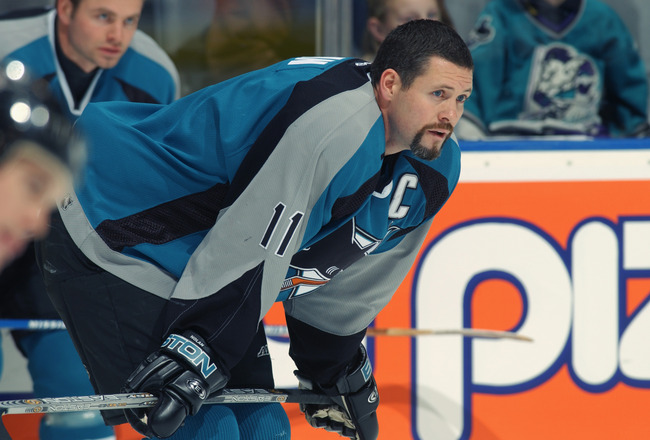 Though it was not your typical Irish goodbye Owen Nolan's speech was short but sweet.
After 18 seasons in the NHL Nolan announced that he is officially retiring. It is something that many fans knew was soon coming, but many were not looking forward to. This couldn't be truer than to those in San Jose, California.
In the 1995 season the Northern Ireland born Nolan found a new place to call home. In 568 games he scored 206 goals and 451 points with San Jose. Nolan upped the level of two-way hockey in San Jose. His ability to score, pass, and hit raised the bar for hockey in the 90s. Then in 1998 he became the captain.
Before Nolan the Sharks had talented players such as goaltender Ed Belfour and forward Igor Larionov but there was still something missing.
Nolan brought chemistry and the right leadership to help San Jose play to their full potential. Nolan was one of the best players in Sharks history. They way he changed how the Sharks played raised the talent bar for this franchise and brought them more successful seasons.
After Nolan arrived bigger name players would jump at the chance to play for a young winning organization like the Sharks. Ever since Nolan came to San Jose the Sharks have missed the playoffs once in 2002. San Jose has made the playoffs 13 out of the last 14 seasons. Before Nolan the Sharks reached the post-season two out of six times.
"To play with the heart and passion he had people didn't want to cross him, but he also had the talent to win games for you and score all the goals that he did," said Sharks GM Doug Wilson.
Nolan is tied for 100th in the NHL's all-time point list with former teammate Peter Forsberg. Nolan had 885 career points in 1,200 games, and more than half of those points came in San Jose.
He played longer with San Jose than any other team in his career. It is where he chose to settle down and watch his family grow.
His impact in the National Hockey League was not seen by too many in his position. Nolan was an aggressive power forward who also had class and respect for those around him.
Nolan scored 422 goals, was a five-time all star, won an olympic gold medal and was so tough that "players would skate to the bench when Nolan was on the ice" as Wilson mentioned.
Trying to hold back sad emotions and go on with his speech Nolan showed what being an athlete is truly about.
"To all the fans, without you guys there are no sports and I thank you for that. To my teammates you guys are one of the main reason why this game is so much fun."
Playing for the fans, the fun, and love of the game is something Nolan didn't forget. He was an outstanding player, but he also had respect and showed it for those in the stands or who may be at home watching him play.
This is someone fans can expect to see in the Hall of Fame soon enough.