It wasn't long ago that it appeared New Jersey Devils rookie defenseman Adam Larsson may never get a chance to play in the Stanley Cup Playoffs. But, with Ilya Kovalchuk back in New Jersey nursing a "lower body" injury, Larsson got his shot and made the most of it.
The Devils were dominating the Philadelphia Flyers through the first two period of game two of their second round series on Tuesday night, yet they trailed 1-0. Through 40 minutes Flyers embattled goalie Ilya Bryzgalov had stopped 25 New Jersey shots, many of them grade A scoring chances.
It looked as though the Devils may be headed towards another frustrating loss and a devastating 2-0 series deficit.
Fortunately NHL hockey games are at least 60 minutes long and the third period would be long to New Jersey thanks to a heads-up read by Larsson.
http://youtu.be/6QFZmDJTcWU
The 19-year-old noticed teammate Dainus Zubrus looking for someone to pass to in the attacking zone. He quickly jumped up into the play to help out. Zubrus fed a wide open Larsson, who walked in and as cool as jello in the fridge, he fired the puck high over Bryzgalov to even the game at one goal apiece.
After the puck went in, Larsson skated along the boards while lunging forward and scraping the ice with his hand. To me it appeared as though he way paying homage to his injured teammate Kovalchuk. The enigmatic Russian often makes the same gesture after scoring goals of his own. In any case it was a cool moment for Larsson and the Devils.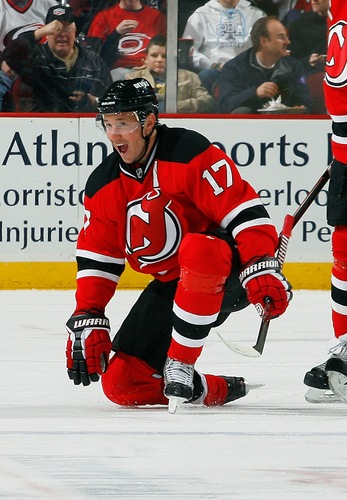 Then as they say, the flood gates opened. David Clarkson picked up his first goal of the playoffs to give New Jersey their first lead at 11:17 of the third. Travis Zajac extended New Jersey's lead less than three-minutes later with his team leading fifth postseason goal. Bryce Salvador completed the scoring with a shorthanded, empty-net goal at 17:09.
It was the first time in Devils playoff history they scored four goals in one period on the road.
I think Larsson's goal was not only great for him and his confidence but it was great for his team. Many of them were still excited about Larsson's goal after the game. The young Swede has been a true professional by saying all the right things since inconsistent play forced him from the lineup.
Larsson responded, making himself a factor all night long by leading the Devils in hits with five and of course breaking through on Bryzgalov.
Devils head coach Pete Deboer may find himself sitting somebody else if and when Kovalchuk is healthy enough to get back on the ice.

Follow me on Twitter! @StevePalumboNHL
Email me at StevePalumboNHL@gmail.com