An eagle-eyed Bostonian noticed these posters outside Boston's TD Garden on Nov. 23, which was supposed to be the day the Boston Bruins hosted the New York Rangers for the second annual Thanksgiving Showdown on NBC: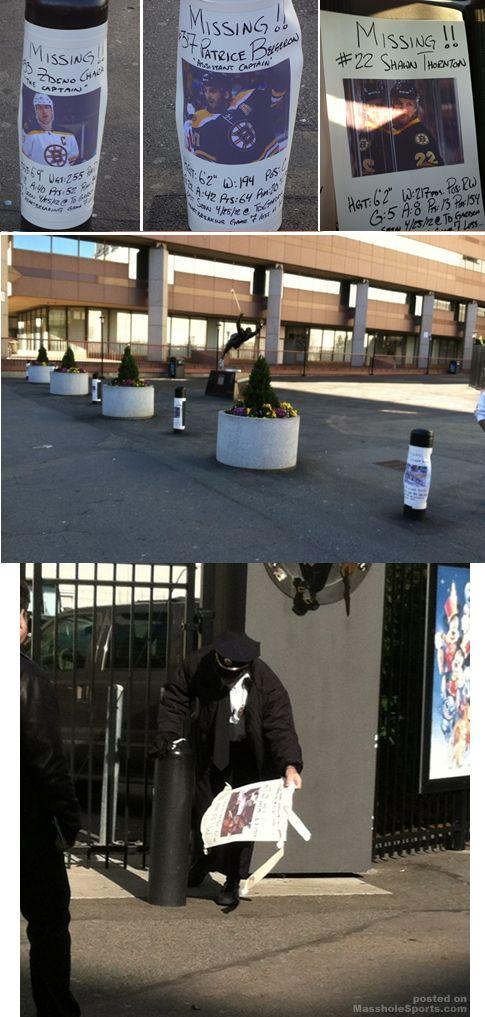 It's difficult to read some of the smaller handwriting on these posters, which were then posted on MassholeSports.com, but here's what I can make out. The three posters declare Zdeno Chara, Patrice Bergeron and Shawn Thornton missing. Chara and Bergeron have their captaincy and alternate captaincy noted on their posters as well, though the clever poster-maker didn't have a fun nickname to give Thornton. ("The beat cop," maybe?) The posters then note each player's height, weight, position and goals-assists-points-penalty minutes output from the 2011-12 season.
The three missing players were last seen on April 25 at TD Garden in a "heartbreaking Game 7 loss" to the Washington Capitals. If you can believe it, that is the most recent time the Bruins took the ice. It has been nearly seven months to the date since that game, which I had not realized until now and which makes things just even more upsetting with regards to this needless, senseless lockout.
By the looks of the center image, it looks like there was a fourth poster–seen on the right-hand side of the picture. The resolution isn't good enough for me to deduce exactly what was on the other poster, though perhaps it could be a picture of the whole team together.
Sure, the security officer took the posters down, but I like to imagine he at least enjoyed looking at them during the process.
For the record, two of those missing players can be found in Europe–Chara in the Czech Republic, Bergeron in Switzerland–while Thornton is still hanging around Boston, considering the possibility of playing in Europe probably more than ever before. But of course, those three aren't in the proper place, which is the real issue here, along with the lost revenue in the immediate area of the Garden, the scorn that sponsors like Discover may start developing towards the NHL ("Why should we bother sponsoring the Thanksgiving Showdown when the league will just lock out every time they need a new CBA?") and the myriad other problems this lockout is causing.
Oh, and of course there's the matter of what NBC replaced the game with, too.
These are some strange times.